Faculty
Chair, Department of Music; Associate Professor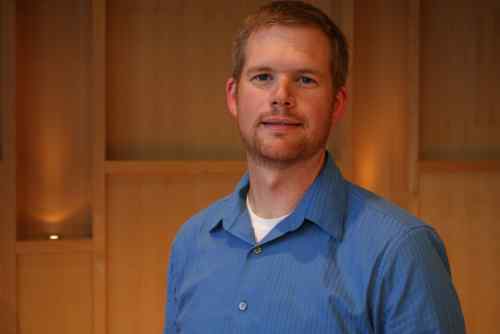 D.M.A., Music Composition, University of Maryland-College Park, 2009
M.M., Percussion Performance and Composition, Appalachian State University, 2006
B.M., Percussion Performance and Composition, Appalachian State University, 2004
Research
Dr. Leupold holds a Doctor of Musical Arts in Composition from the University of Maryland, College Park. He holds two Master of Music degrees from Appalachian State University in Music Theory/Composition and Percussion Performance. He has studied steel drum performance at the University of the West Indies and tabla performance with Pandit Sharda Sahai.
As a composer, his music explores a blend of modern "classical" music, popular music, and world music with rhythm at its core. Described by the Washington Post as "an imaginative exploration of instrumental timbres," Leupold's music seeks to enhance the tonal possibilities of the instruments through the use of tension, personification, and imagery. His compositions have been performed at various venues throughout the U.S. and have been selected for performance at multiple conferences for the College Music Society (CMS) and the Society of Composers, Inc. (SCI).
His debut CD entitled Exasperating Perpetuation was released on Ravello Records. For more information regarding the CD, please visit the Ravello Website. Recent performances include the debut of his work for chamber orchestra entitled Industrious Hybridization by INSCAPE chamber orchestra and the premiere of his work for clarinet and bassoon Fragmentary Bibelot. Upcoming performances include the premiere of this An Actuated Agglomerate for chamber orchestra at the 2016 National Music Festival and a composition recital at Washington College in the fall.
As an educator, Dr. Leupold has taught music theory and composition at various institutions throughout the mid-Atlantic region. These include St. Mary's College of Maryland, University of Maryland, College Park, Towson University, and Anne Arundel Community College. He recently published an article with Dr. Jennifer Snodgrass entitled Concurrent Collaborative Analysis in the journal College Music Symposium. This line of research addresses the use of technology as an aid in cross-institutional peer learning. He has also presented on effective approaches for teaching music theory and education for visually impaired students.
Dr. Leupold is also an avid performer. As a percussionist, he has performed throughout the U.S. as a soloist and as an ensemble member. He currently performs with the Londontowne Symphony Orchestra and the Anne Arundel Community College Orchestra. Leupold is the head of steel band activities at Washington College.
Teaching
MUS 130: Music Theory I
MUS 131: Music Theory II
MUS 230: Music Theory III
MUS 231: Music Theory IV
MUS 430: Orchestration and Arranging
MUS 294: Applied Composition
MUS 294: Steel Band