Faculty
Professor of Theatre
Director of the Daniel Z. Gibson Center for the Arts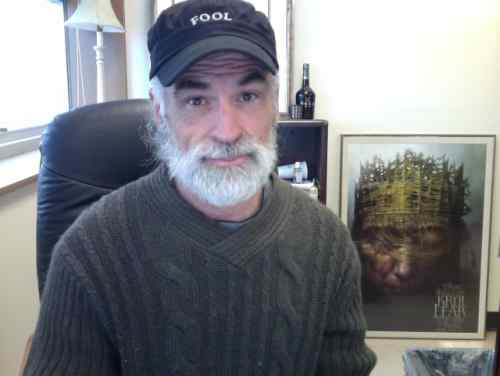 (800) 422-1782, ext.7832

Gibson 222
Office Hours
TBD, also available by appointment
Education
B.A., University of Maine at Orono, 1977
M.F.A., University of Hawaii at Manoa, 1989
Biographic Note
Professor Daigle has taught at Washington College since 1990. He is currently Director of the Gibson Center for the Arts. He was the inaugural Director of the Communications and Media Studies program and served as chair of the Department of Theatre for 17 years. His regular Washington College courses include all levels of acting and directing but he has taught 18 different courses here including courses in computer-aided design, lighting design, traditional Japanese theater and theatre management.
Daigle has directed over 30 productions at Washington College. His focus in recent years has been on new plays and he has directed 8 world premiers here at the College, Most recently Dreaming Brave and True, by Steven Spotswood. Several of those plays have gone on to subsequent productions at professional theatres including, All Blues by Robert Earl Price that was produced in collaboration with 7 Stages Theatre in Atlanta, Georgia; The Squeaky Wheel Squeaks, by Brian Shaughnessy, performed in Washington D.C., Boulder, Kansas City, Minneapolis, Los Angeles and Honolulu and We, Tiresias by Steven Spotswood.. A subsequent production, produced by Forum Theatre and directed by Matt Ripa, was named "Best Drama" at the 2012 Capital Fringe Festival and "Best Local Play" by the Washington City Paper in D.C,.
Other productions directed by Professor Daigle that were not affiliated with Washington College have been seen in Maine, Hawaii, Scotland, Kyoto, Samoa, Denver, Los Angeles, and D.C. as well as the more exotic locales of Chestertown and Church Hill.
Before coming to Washington College Daigle was Managing Artistic Director of the Stage Coach Theatre, The Children's Theatre of Maine and was the founding Artistic Director or The Maine Theatre Company.
Research Interests
Acting, Directing, Japanese traditional theatre.
As a research fellow at the Kyoto Arts Center he performed the kabuki role of Tandanyu at the imperial palace in Kyoto. He has studied for a year with Nomura Shiro and Nomura Mansaku, two of Japan's "Living National Treasures" in the traditional forms of Noh and Kyogen. His translation, with Junko Sakaba, of Buaku was the first English language Kyogen play performed at the National Noh Theatre in Tokyo. His main focus in the last several years has been on new plays. View Curriculum Vitae (PDF)
Plays Directed At WC
Under Milk Wood, Shrew, Drinking In America, Waiting for Godot, Angels in America, My Children! My Africa, Hamlet, Pounding Nails… All in the Timing, Sex, Drugs and Rock and Roll, Lebensraum, Molly Sweeney, Buaku, The Laramie Project, Extreme Exposure, Duchamp Sat Here, Twelfth Night, My Name is Rachel Corrie, Zoo Story, We Tiresias, Monologues From the Edge, Golden Sardine, Death and the Maiden, All Blues, War Stories, Clybourne Park, Cross-Dressers, Drunks and Fools,Too Much Light, The Cripple of Inishmaan, Dreaming Brave and True, 8x10: An Evening of Short Plays.
Courses Taught At WC
DR 211 - Acting I
DR 311 - Performing Shakespeare
DR 231 - Theatre Technology
DR 331 - Lighting Design
DR 221 - Directing
DR 306 - Contemporary Theatre
DR 394 - Special Topics: Improvisation
DR 404 - Computer-Aided Design
DR 404 - Special Topics: Traditional Japanese Theatre
DR 404 - Theatre Management
DR 404 - Special Topics: Problems in Technical Theatre
DR 494 - Theories of Acting
CNW 101 - Theatre in Performance
CNW 202 - Bunraku and Bowie, Kabuki and Kiss: Traditional Asian Performing Arts and Contemporary Western Culture