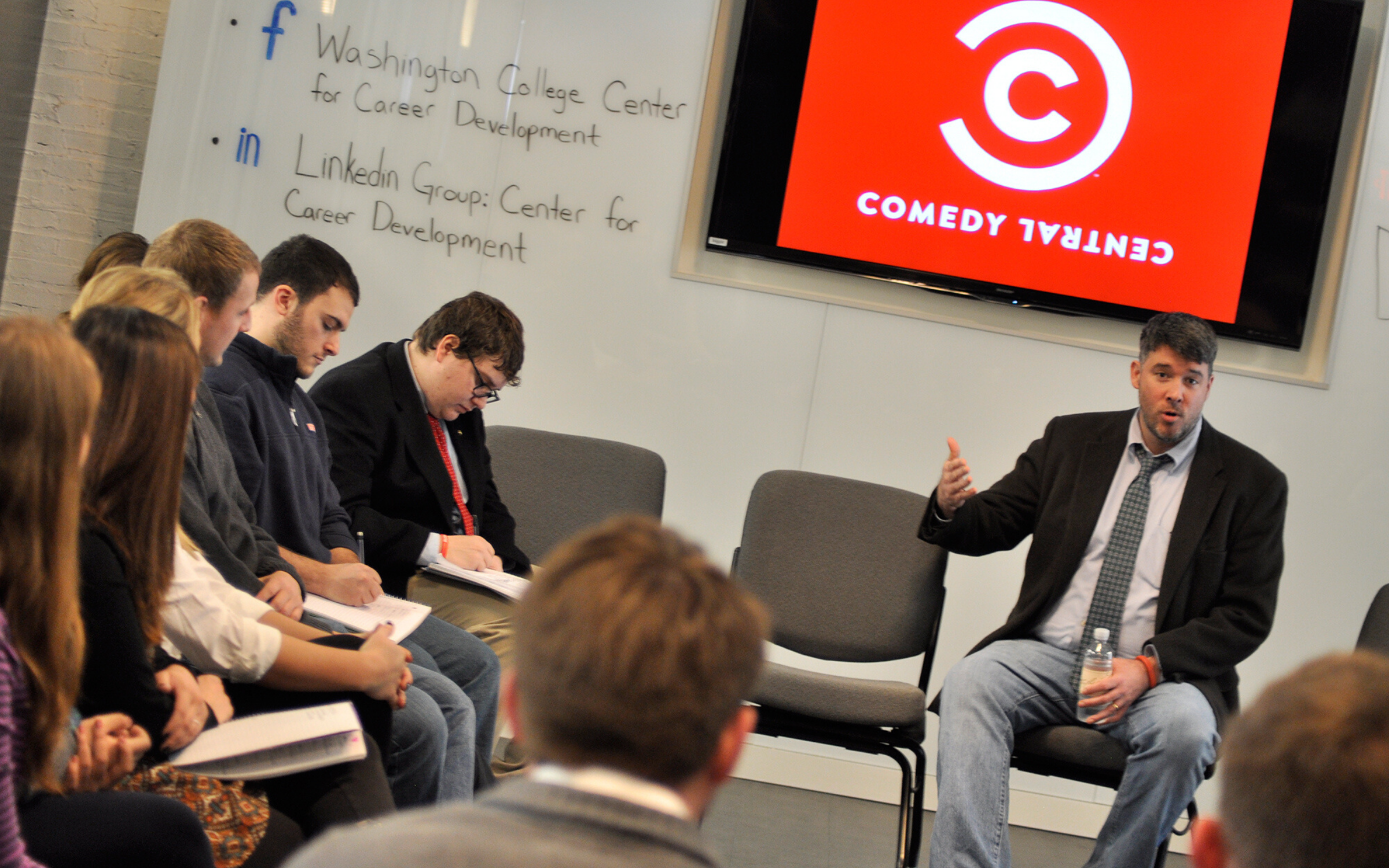 We have streamlined the process for internship registrations, using an online form on HandShake. Once you log into that platform, the button below will work for you. Click Career Center, then the Experiences tab, and then Select an Experience.
Washington College Internships
This research experience is available to one or two highly qualified Washington College Biology and/or Chemistry majors interested in pursuing post-graduate work towards a Ph.D. The lab is supervised by Washington College alumna, Dr. Terumi Kohwi-Shigematsu, a world recognized expert in genetics and cancer research. Students wanting to gain some experience in molecular biological research, learning cutting edge high-complexity molecular analyses of chromatin structure and expression profiling studies together with cellular biology analyses should apply. This is a unique opportunity to develop molecular biology skills and to interact with outstanding researchers in the field of stem cells and chromatin research at USCF which is one of the top medical institutes in the U.S.
The main research interest of her laboratory is Chromatin Organization and Epigenetics in Gene Regulation and her group is focused on the study of how chromatin structure determines cell behavior and fate, and its role in cancer, stem cells, and brain function. For more information about her research please refer to:
Kohwi-Shigematsu, T., Poterlowicz, K., Ordinario, E., Han, H-J., Botchkarev, V. and Kohwi, Y. Genome organizing function of SATB1 in tumor progression. (2013). Seminars in Cancer Biology 23:72-79. NIHMSID: NIHMS396670
Interested students should contact either the Chair of the Biology or Chair of the Chemistry Departments here at Washington College or alternatively the Assistant Dean for Curricular Enrichment. Candidates are asked to submit application materials that are reviewed by an internal Washington College committee and then further reviewed for a final decision by Dr. Kohwi-Shigematsu.
The Academy Art Museum in Easton, Maryland offers internships during the semester as well as summer internship opportunities. The internships expose students to the operations of the museum and provide opportunities for students to attend gallery programs and events. Students can select among the following:
Curatorial, exhibit design and mounting: This includes research on artists represented in the museum's collection or artists and artworks whose work is under consideration for exhibit and research to support the permanent collection. This work proceeds under the guidance of the museum curator. Exhibit design and mounting includes assisting with exhibit design, design of informational and marketing materials for exhibit, and actual installation of exhibitions under the curator's guidance.
Fund raising and event planning. Interns will assist with membership development and advancement campaigns, designing and planning membership events, assisting with development calls all under the supervision of the director of development.
Art education. The interns will assist in developing and delivering art education programs, art classes, and workshops and museum tours for adults and for children as well as art outreach to schools. Their work will be supervised by the education coordinator or the early enrichment manager.
Students must have a GPA of 2.8 or above and be in good academic and social standing.
The applicant will submit a current resume, transcript and 300 word statement of interest as well as an application form which is available for download from the internships.washcoll.edu page.
For more information contact: Assistant Dean for Curricular Enrichment
An opportunity is available for a qualified student to intern over the summer in the Division of Cardiology at Children's National Medical Center in Washington DC. The student may choose from 4 specific areas including:
Introduction to Cardiology Practice: Here the intern will be exposed to outpatient clinic work, non-invasive imaging, cardiac catherization, preventive cardiology and inpatient cardiology.
Introduction to Cardiology Research: The intern will be introduced to investigators working in the labs at Children's and will be able to explore methodologies in cellular and molecular level work.
Introduction to Health Care Administration: The intern will learn about hospital management through project work and meetings with staff members on topics such as: clinics; human resources; budgeting; customer service; safety; and other objectives of the strategic goals of Children's.
Nursing Leadership in a Magnet Environment: The intern will participate in research, quality, safety and leadership projects. "Magnet" refers to the highest level of credentialing nationally recognized within a hospital setting.
This opportunity is highly selective internship. Potential interns will be asked to submit a resume, a 300 word statement of interest, a current transcript and agree to an interview with faculty and staff here at the college. Students will be required to meet the criteria set out by the hospital including a criminal background check and health screenings.
For more information, contact Tya Pope at tpope2@washcoll.edu
Corbin Advisors offers a summer internship experience to a highly qualified student with a Business Management major. The student works directly with the staff of the firm on projects as they provide advice to clients.
A resume and cover letter should be submitted to the Associate Provost's Office and all candidates are then interviewed by the company. For more information contact the Assistant Dean for Curricular Enrichment.
This is a new offering available to qualified Washington College students who are interested in learning more about non-profit work. The Program extends several Delaware and Pennsylvania based non- profit summer internships. Interns are introduced to advocacy and research work, can learn about various missions and goals of their respective workplace, and first- hand, observe how grants and individual donor funding contribute to organizational sustainability. Students interact with constituent-clients served by these entities and are afforded opportunities to meet with collaborative community partners. A broad range of host employers is available including: Chadds Ford Historical Society in Chadds Ford, PA; Delaware Community Foundation in Wilmington, DE; Lightship Overfalls Maritime Museum in Lewes, DE, and Stroud Water Research Center in Avondale, PA.
Students receive a stipend from the college to participate in these internships. They can opt to pursue academic credit or complete these internships just for the experience. If credit is sought, an intern creates a learning contract with the assistance of a faculty advisor. The agreement includes a number of learning objectives as well as relevant academic assignments to be completed during the summer experience. The learning contract is shared with the host employer and he/she provides assessments of a student's progress that are reported back to the faculty advisor. With successful academic completion, this internship is recorded on a student's transcript.
Interested students or other potential, non-profit hosts should contact the Assistant Dean for Curricular Enrichment to learn more about these exciting experiential learning opportunities within the non-profit community!
The Hansard Society for Parliamentary Government in association with the London School of Economics and Political Science (LSE)
The Washington College in England Program is a Tuition/Room based at The Hansard Society for Parliamentary Government in association with The London School of Economics and Political Science (LSE).
The Hansard Society for Parliamentary Government (HSP) developed The Hansard Scholars Programme in Parliamentary and Public Policy Studies to offer students a chance to study the workings of parliamentary democracy and to stimulate interest in its principles.
Students majoring in political science, economics or other social sciences, history, international relations, or business administration will find the program particularly relevant to their studies. Hansard Scholars are assigned to work with Members of the House of Commons, the House of Lords, the political parties, public, social policy, and research institutes.
The Hansard Scholars Programme internship placement is accompanied by three courses at the London School of Economics and Political Science. The London School of Economics and Political Science (LSE) is a unique institution among UK universities. It is the only British university specializing soley in the study of the social sciences, and has a world-wide reputation in the field.
The program is located in London, considered to be one of the world's most exciting cosmopolitan cities, offering various amusements, such as, trendy clubs, cinemas, restaurants, shops, theaters, historic sites, and two thousand years of architectural history.
Faculty
Classes will be taught by senior British university faculty and also involves outstanding practicioners and other specialists. The Coordinator of the Hansard Scholars Programme will advise Washington College students.
Requirements
All well qualified sophomores, juniors and first semester seniors are eligible to apply for the program. This program is open to students in all majors. Students should meet the following prerequisites:
Must have a GPA of 3.0 or above with appropriate background and approval of the program advisor.
Demonstrated ability to work independently.
Evidence of good character, maturity, and motivation.
Ability and willingness to adapt to a foreign environment.
Living Arrangements
Students will be housed in shared accommodations located in central London provided by The Hansard Scholars Programme.
Curriculum
Students must complete the following courses: Politics and Parliament, Politics and Public Policy, and a Supervised Research Project. Students will also be expected to complete an internship as part of the program.
Approximate Semester Dates
Fall Semester: late September to mid-December.
Spring Semester: mid-January to early April.
Summer Program: mid-May to mid-July.
Politics and Parliament
This course examines the constitutional and political process in Britain with special reference to the students' internship programs. External lecturers include leading British politicians, political commentators, and lobbyists. 3 credits.
Politics and Public Policy
This course analyzes current policy issues, seen in their historical context and in a European dimension. Topics include the economy, social policy, education, the role of the media, and ethnic and regional problems. 3 credits.
Supervised Research Project
Each student works on an individually designed research project leading to a substantial paper of between 8,000 and 12,000 words. Usually, this is based on research undertaken during the internship. 3 credits.
Political Science and International Studies Internships are available for qualified juniors and seniors in Washington, D.C. and abroad through the Department of State, the US. Agency for International Development (USAID), the U.S. Information Agency (USIA), and the United Nations.
Most federal government internships are in Washington, D.C., but some opportunities occur each year for interns to serve abroad as Junior Foreign Service Officers. Depending on the needs of the agency, interns are assigned junior-level professional duties, which may include research, report writing, correspondence, analysis of international issues, and assistance in cases related to domestic and international law. The department actively helps students prepare applications and find internships with government agencies.
Students from Washington College have served in Bangledesh, Barbados, China, Ecuador, Fiji, The Gambia, Hong Kong, London, New Zealand, the Philippines, Switzerland, and Washington, D.C.
For more information please contact: Dr. Melissa Deckman at mdeckman2@washcoll.edu or the Global Education Office at geo@washcoll.edu.
Washington College students may apply to intern and receive scholarship awards in the National Security Scholarship Program. Sponsored by the Independent College Fund of Maryland, this program offers qualified students, an opportunity to work for various homeland security focused partners such as:
AAI Corporation
Boeing Advanced Information Systems
Booz Allen Hamilton
CACI
Computer Sciences Corporation
COPT
Essex Corporation
General Dynamics
Harris Corporation
L-3 Communications
Lockheed Martin
Raytheon
Verizon Federal Network System
The National Security Agency
Selected scholars can receive up to $15,000 in scholarship awards.
FAQ's
Is there a GPA and class requirement for this internship program?
Yes students must have a minimum GPA of 3.0, have earned a minimum 24 + class credits which must be completed by October 10 of their Junior Year, be in good academic and social standing, and planning to return to Washington College for the academic semester following the internship.
When may I apply?
Applications are accepted by NSSP from September to early October.
Can I earn academic credit through this internship?
Yes, academic credit can be earned when the student signs a learning contract with the appropriate supervising faculty member.
What is needed to apply?
For application information and assistance, please make an appointment with the Assistant Dean for Curricular Enrichment.
How do I learn about my application status?
Initial review of applications is made by the NSSP review panel in mid-October. All candidates are notified whether or not they were selected for an interview by the end of October.
Candidate interviews are conducted the first and second Saturdays in November, and each candidate is assigned a specific time and date for an interview. These interview slots cannot be changed. All interviews are conducted at :
Booz Allen Hamilton 304 Sentinel Road Annapolis Junction, MD 21701
All applicants receive e-mail notification with results of the scholarship interview process on or about December 1. Selected applicants will move forward to security clearance processing.
When candidates successfully complete security clearance, they are reviewed by the NSSP Board for internship placement with program partners and/or notified of scholarship award in early June.
All scholarship candidates must confirm (email or in writing) acceptance of internship by mid June. A Thank You letter addressed to "The I-Fund NSSP Supporters" is required and should be received by the end of June.
The Office of Naval Research is offering a summer research opportunity exclusively for a Washington College chemistry major. Founded in 1946, the Office of Naval Research has been a pioneer in the public support of science and technology research that benefits both the naval services and the nation. From investments in the earliest computers to spearheading seminal research in deep sea exploration to cultivating groundbreaking efforts in solid-state electronics and countless other innovations, ONR has been shaping the Navy and Marine Corps — and the world around us — for seven decades and counting. Students participating the research will select a lab of interest to him/her such as biomaterial development, power and energy and environmental quality.
Interested Sophomores or Juniors should contact Professor Anne Marteel-Parish in the Chemistry Department (amarteel2@washcoll.edu) for more details about eligibility, financial support, and application details. The deadline for applications is mid December.
Washington College students may participate in a Washington Center internship while maintaining current enrollment at the College and earning credit toward graduation during Fall or Spring semester. Opportunities are also available during the summer for academic credit. This program is residential; students are encouraged to reside full time in Washington, D.C. during the internship term, in Washington Center housing.
The Washington Center is an independent nonprofit organization that provides internship programs and academic seminars to college students from across the country and around the world. It is affiliated with more than 850 colleges and universities nationwide and works with 2,000-3,000 internship placements in Washington in major professional fields in the private, public, and nonprofit sectors. The Washington Center has over 30,000 alumni.
For further details review the Washington Center website (www.twc.edu) and then meet with Assistant Dean for Curricular Enrichment. Students cannot be accepted in a Washington Center internship without first meeting with Assistant Dean for Curricular Enrichment and participating in a review of application materials.
FAQ
Is there a GPA and class requirement to participate in this internship program?
Yes, the minimum GPA is 2.8 and you must be at least a second term sophomore (completed 48 credits at Washington College).
When may I apply?
Internship placements are competitive and sometimes require a security clearance, which makes application deadlines up to 9 months in advance of the term you plan to participate in a Washington Center internship. Check the application deadlines on the TWC website.
Can I earn academic credit through a Washington Center internship?
Yes! You will register for and earn WC credit for 16 credit hours. Currently, the departments of Art, Political Science, Business Management, Economics, International Studies, and Sociology offer a full semester of academic credit for TWC internships.
If you have taken Political Science at the 100 level you may attend the Washington Center under that program. If you are seeking academic credit for a TWC internship outside of these fields, please consult the chair of the appropriate department before applying and plan to work closely with Dean Lange.
You will be enrolled in three courses: the internship, an academic course, and a lecture series. You will receive a grade for each of the three components based on your successful work and completion of your course objectives. Work is evaluated and grades are given by your Washington College department faculty mentor.
How will a Washington Center internship affect my GPA?
Credit received for the Washington Center will appear on your transcript and counts toward your cumulative GPA.
How will a Washington Center internship affect my financial aid?
You will be eligible to retain all your financial aid and scholarships during your semester at the Washington Center just as you are when you take classes on campus.
For an itemized list of costs relating to TWC internships, see the costs question below. For specific financial aid inquiries, please consult the Office of Financial Aid.
How do I apply?
Important information may be obtained from Assistant Dean For Curricular Enrichment and on-line at http://www.twc.edu Applications are online at the TWC website. Participation and application components must be approved by your faculty advisor prior to submitting the application.
When are the internal application deadlines?
Review the Application Deadline on the TWC website (www.twc.edu).
WC-TWC Liaison
Executive Director for Career Development Office: Career Development Extension: 8505 ncooley2@washcoll.edu
For a complete list of Washington College internships, click here!
International Internships
Information about international internships can be found through the Global Education Office.
Internship Resources
Funding Sources
These funding sources are available to meet at least some of the expenses associated with internships, research, and job shadowing. Please review eligibility criteria, application processes, and contact information for each fund. You may apply to more than one fund.