A local youth swim team's volunteer coaches, who work with WC students and staff, earn statewide honors for their efforts to help Special Olympics athletes hone their swimming skills.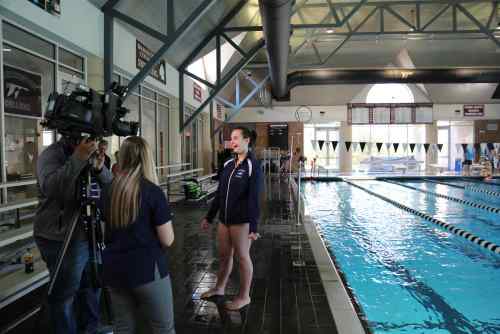 CHESTERTOWN, MD—A longstanding but largely unsung collaboration between a local youth swimming group, Special Olympics athletes, and Washington College's swimming program is getting its moment in the spotlight this month in a most unlikely arena—at M&T Bank Stadium during the Baltimore Ravens game on Dec. 12.
Chestertown's Sho'men Youth Swim Team Volunteer Club, which coaches Special Olympics swimmers at WC's Casey Swim Center, has won two awards this year: A Governor's Service Award—which recognizes Marylanders for significant volunteer contributions and their efforts to change Maryland for the better—and a Ravens Honor Rows Award, which salutes youth groups who provide outstanding service to communities.
"Over the last two years, about 50 Sho'men Youth Volunteers gave of their time, talents and hearts to coach an average of 14 athletes for the 12 weeks of swim season," says Bonnie Brady, a coach with the Bridges Athletic Club, which provides a variety of athletic opportunities for Special Olympics athletes. "The Sho'men and Bridges athletes continually inspire each other to challenge themselves, to learn new things, to eliminate biases and prejudices, to have hope when the obstacles seem unsurmountable, to take risks, and to be the best human beings they can be."
As part of the Ravens Honor Rows Award, the Sho'men Youth volunteers won free tickets to attend the Dec. 12 NFL game against the New York Jets, where they will be honored in person. A crew from WBAL-TV visited the Casey Swim Center in November to film the students and talk with them about their devotion to this program, which WC Aquatics Director Kim Lessard says is an example of how the local community and College work together to create opportunities for a wide variety of people beyond the campus.
"It's a great program," Lessard says. "The college provides the facility for a nominal charge, with a lifeguard. WC swim team members volunteer, and the Youth Sho'men volunteer to coach the athletes. It's a real neat mix of people."
Brady, whose husband Ken Schweitzer is an associate professor of music at the College and whose oldest daughter, Cecelia, has been leading the volunteer youth swimming coaches, says it started eight years ago, when their daughters, Emeline and Cecelia, "harassed me, a volunteer Special Olympics coach, to let them volunteer with Special Olympics. Both girls were on the Youth Sho'men Swim Team, and believed they were strong enough to coach athletes with different abilities.
"Cecelia, the older, was allowed to volunteer, and she eventually began recruiting her Sho'men Youth teammates to serve as coaches for athletes," Brady says. "And it goes beyond the swim season, with the friendships made between coaches and athletes going year-round. It is wonderful to see Tilghman and Scott, Megan and Michael, Tyler and Thos, Becca and T'Keyah, Nathan and Brandon, and all our other team members when they run into each other around town. And through it all, Coach Lessard has been our backbone, making sure our young volunteers are encouraged to serve, that College swimmers are there to help out each week, and that the volunteers have the skills they need to help others."
During an emotional gathering before the WBAL-TV interviews, the young swimming coaches, athletes, and others shared how this program has affected them.
"I love coming here to watch everyone grow," Cecelia Schweitzer said.
"This group has made an incredible difference in the athletes' attitudes about being able to do things," said Jack Brosius, a swim coach and advisor at Bridges Athletic Club. "Through their efforts, we have three or four athletes who had never been able to swim before swimming now, and that's a major accomplishment."
Although the members of the Youth Sho'Men Swim Team Volunteer Club—who range in age from 12 to 18—do most of the coaching, students from WC's men's and women's swim teams have been involved since the program's inception.
Lindsay Strauss '21, a three-year swim team member who's majoring in human development to become an elementary school teacher, says she was involved in Special Olympics throughout high school and was thrilled when the opportunity arose to continue that connection through WC's swim team.
"We take part in it every year and love getting in the water with the athletes to help them train for their races at the end of their season with us. We work on stroke technique or whatever they ask us to help them with," she says. "Those athletes are there because they want to improve, and it's just super fun to hang out and splash around. They love it just as much as we do, and it's a great feeling to see all the improvements they've made at the end of the season meet!"
"I have a passion for swimming, and it's fun to watch the participants get excited about swimming and competing, regardless of how good they are," says Jake Brown '20, a history major and three-year swim team member. "Plus, a lot of us on the college team really bond with the participants."
Allison Gallagher '21, a chemistry major and swim team member, has been helping coordinate the College swim team volunteers for the past two years.
"I stay involved in this project because I enjoy seeing how appreciative these athletes can be to such small actions of kindness," she says. "The reward of seeing an athlete being excited for swim practice is truly worth all the work that goes on behind the scenes."
Brady thanked the College community for its role in making the program such a success.
"Many years ago, the College opened its doors and its pool to hosting the Sho'Men Youth Swim Team. Then the pool was opened to host the local Special Olympics swim team. I don't think the College could have predicted the long-term gift they were providing," she said.
To find out more about Bridges Athletic Club or the Sho'Men Youth Swim Team Volunteer Club, contact Bonnie Brady at Bonnie.brady@gmail.com. You can catch these amazing kids on WBAL TV on Dec. 10 during the 5:00 news, and during the Dec. 12 Ravens game.