A "mocktail" reception with young alumni in the environmental field provides graduating seniors in environmental science and studies a chance to hone their networking chops.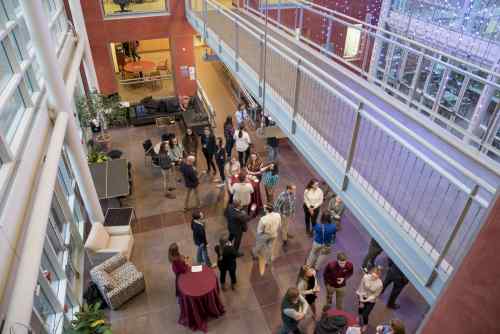 Seven graduates of the Environmental Science and Studies Department returned to WC this week to help about two-dozen seniors work on their networking skills in a "mocktail" reception in the McLain Atrium of the Toll Science Center.
Organized by department faculty, the Career Center, and the Office of Advancement, Alumni Affairs and Constituent Engagement, the event gave graduating seniors a chance to practice their "elevator pitches" about themselves, and to talk with the alumni about their diverse careers so far.
"It gives them an opportunity to talk in a 'professional' setting about their career ideas and with professionals working in environmental fields," says Rebecca Fox, assistant professor of environmental science and studies. "It gives them a feel for talking in this kind of setting, which happens at conferences. It's uncomfortable for most people to talk about themselves, so having some practice helps."
To prepare for the event, Fox, Associate Professor Brian Scott, and Assistant Professor Jill Bible literally rode up and down in an elevator with the students, helping them perfect their brief introductory comments. On the evening of the event, students circulated among several tables, where each of the alumni waited to talk with them in small-group settings.
Alumni who came back for the event were: Jenny Lee Freeberyn '13, with the Kent Soil & Water Conservation District; Matt Mullin '96, from High Street Strategies LLC; Katie Walker '17, with Chesapeake Conservancy; Matthew Wilfong '15, with the UMD Department of Environmental Science and Technology; Max Ruehrmund '13, from the Smithsonian Environmental Research Center; Erika Koontz '17, from UMD's Center for Environmental Science at Horn Point; and Kathy Thornton '13, with Adkins Arboretum.