A Washington College alumna in the nursing profession braces for a wave of COVID-19 patients in Maryland.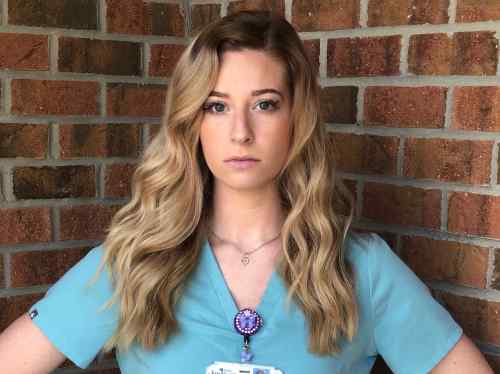 Heather Smith '14 has been prepared to cope with many situations in her role as a nurse at Anne Arundel Medical Center. Yet despite her five and a half years of study and three years of on-the-job training, standing on the front lines of a global pandemic was certainly not one of them.
"We were never taught how to prepare for a pandemic in nursing school," Smith admitted. "This is a very scary time for all of us in the profession, and I never could have imagined that this could happen in our country. It seems like the CDC [Centers for Disease Control and Prevention] and the hospital are giving us new rules for dealing with the virus and its symptoms every day."
Anne Arundel Medical Center launched a COVID-19 Unit in early March; Smith estimates that the facility has since dealt with about 30 cases. Smith, who started working on the surgical floor at the hospital last August, has cared for five COVID-19 patients thus far, with their ages ranging from 40 to 80. Like those at hospitals across the country, AAMC staff has been notified to expect a surge of patients in April.
In anticipation of this scenario, all elective surgeries at Anne Arundel have been postponed and employees have been asked to conserve and even re-use personal protective equipment (PPE) in the case masks. The hospital has enough PPE to last over the next couple of months, Smith says, but will need more supplies if the crisis persists into the summer. In addition, other precautions have been put into effect. All staff must now wear N-95 face masks throughout an entire shift and their body temperatures are monitored before and after each shift.
Fears about the pandemic certainly weigh on Smith's mind when she drives into work and speaks with her co-workers. "Am I going to come in contact with someone who has the virus? Am I going to transmit it to another patient without knowing?" These are her greatest concerns.
Still, the Chestertown resident believes she is in exactly the right place in her life to be working in the nursing profession. "Many of my co-workers have kids and other family members at home to worry about. That's not the case for me right now, so I feel that taking on this responsibility is the right thing to do. I try to be extremely careful, changing and washing clothes immediately after each shift.
Before COVID-19, nurses provided comfort to patients' families as well. In the midst of this crisis, they are adapting and improvising—in some cases FaceTiming family members during a patient's final moments of life. Yet another chapter of patient care that was never included in any nursing textbook.