Marking Arbor Day this April 17, Washington College will add a new specimen to its Virginia Gent Decker Arboretum—a tulip poplar descended from the lineage of a tree still standing at George Washington's Mount Vernon.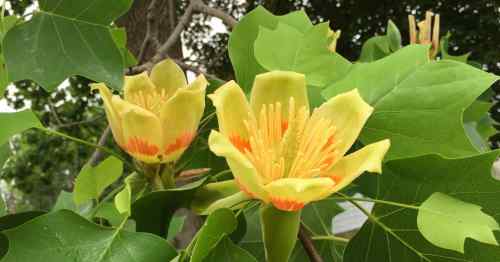 Martha Washington likely enjoyed the shade of the tulip poplar that generated the sapling that will be soon cast its own shadow over Martha Washington Square. Returning home from his service in the Revolutionary War, husband George embarked on a major project to redesign the grounds, adopting the less formal, more naturalistic style of 18th-century English garden landscape designer Batty Langley, but adapting those ideas to his own tastes and needs. In 1785, among the native trees and shrubs he had transplanted from the surrounding forests were tulip poplars, the tallest eastern hardwood. The tulip poplar making its way to Washington College was started from a seed from the original tulip poplar that still survives on the Bowling Green.
On Arbor Day 2020, Dean Norton, the director of horticulture for the Mount Vernon Estate, will be on hand for the tree planting that morning. He will give a public talk and receive the honorary degree, Doctor of Science, that afternoon.
Norton, who holds a degree in plant sciences and ornamental horticulture from Clemson University, has been working at Mount Vernon for the past 50 years. In addition to his work as caretaker of George Washington's gardens and grounds, he has conducted various programs concerning the principles and practices of 18th-century gardens for the Smithsonian Institution, the American Association of Botanical Gardens and Arboreta, American Horticultural Society, U.S. Botanical Garden, Maryland Historical Society, and Colonial Williamsburg.
According to organizer Frank Creegan, Professor of Chemistry Emeritus, "the occasion celebrates both Resilience, the theme for the 20th anniversary of the Center for Environment & Society, and the revitalization of the College's Virginia Gent Decker Arboretum," now under the curation of Martin Connaughton, Associate Professor of Biology.
In early March, the Arbor Day Foundation granted Washington College its 2019 Tree Campus USA® designation, recognizing its commitment to effective urban forest management. To obtain this distinction, Washington College met the five core standards for effective campus forest management: a tree advisory committee, a campus tree-care plan, dedicated annual expenditures for its campus tree program, an Arbor Day observance, and a student service-learning project.