Winner of the 2018 Akron Poetry Prize, the first poetry collection by Kimberly Quiogue Andrews, assistant professor of English and creative writing, is published by University of Akron Press.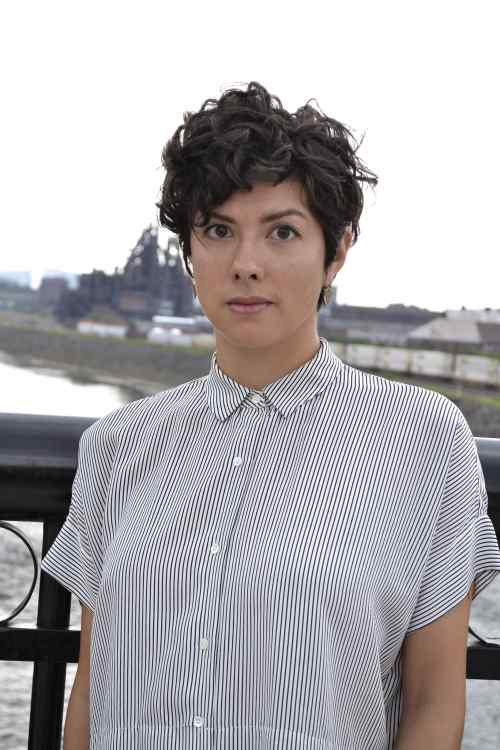 It's never easy being of two worlds, even harder when those worlds are mostly obscured in a family's past. It's that binary tension and mystery that Kimberly Quiogue Andrews, assistant professor of English and creative writing, sought to explore when she began the poems that comprise her first collection, A Brief History of Fruit, winner of the 2018 Akron Poetry Prize.
Released this month by the University of Akron Press, the collection, "offers up history—personal, familial, postcolonial, geopolitical, ecological—and indeed the history of fruit, fruit as sustenance, pleasure, exploitable product, as image, parent, love, and wound," writes Diane Seuss, 2018 Akron Poetry Prize judge. "These are hard-won poems, fought for, lived through. They do not resolve; to resolve would equal self-abandonment. Nor do they locate or repair the single center that will not hold. Instead they inventory a parallel history"—one that, as Andrews says, is a way of "doing the work of [familial] excavation that I wasn't getting just by talking to my parents."
Andrews's mother was born in the Philippines but grew up in Detroit, and her father is from rural central Pennsylvania. Andrews grew up in Bethlehem, Pennsylvania, an area she calls "the buckle that hitches together the rust belt and the coal belt," in the shadow of the shuttering Bethlehem Steel plant (the topic of another series of poems she's presently working on).
Growing up, the racial difference between her mother and father wasn't something anyone ever talked to Andrews about. "It's not that I didn't know that [my mother] was from the Philippines and that my grandparents were from the Philippines," she says, "but the actual implications of that in terms of race had never really occurred to me." She describes her mother's upbringing as one inflected by "hard assimilationism," in which immigrants decide, effectively, "that if you're going to be in the 'land of opportunity,' you're going to be an American in that land."
The poems in A Brief History of Fruit interrogate the consequences of that type of self-erasure. Andrews's Filipino grandfather didn't want to teach any of his children Tagalog, the primary Filipino language, and her mother hadn't gone back to the Philippines since she immigrated with her parents nearly half a century prior. While pursuing an MFA in poetry writing at Penn State University, Andrews decided that to better understand not only this heritage but also this decision, not uncommon among people of the Asian diaspora, she would go.
She found a summer program for Filipino-Americans looking to reconnect with their families and learn about Filipino history (particularly its [post]-colonial relationship with the United States), and went a week early, bringing both of her parents for that first week. It was, she says, "deeply weird. People kept coming up to my mother and talking to her in Tagalog, and she kept having to say, in this perverse refrain, 'no, sorry, I'm an American.' And that was deeply affecting." Absorbing more Filipino culture in that summer than she ever had from her immediate family, Andrews says the visit "changed the entire way I thought about how I was going to write about it, and how I thought about my relationship to this culture—a culture that I'd learned something about previously, of course, but to which I never felt as though I had any real relationship."
A Brief History of Fruit explores this uncovering with "poems that refuse any convenient definitions of what poetry, politics, or identity should be, because Andrews knows that the fiction of convenience can only root us without nourishing us," writes Mia You, author of the poetry collection I, Too, Dislike It.
Andrews most recently won the New Women's Voices Prize from Finishing Line Press with her chapbook BETWEEN. She's presently working on a scholarly book based on her PhD research, which looks at avant garde and conceptual poetry and its relationship to literary studies. She's also developing a series of poems that examine the history of melancholy, as well as digging into the history of the steel country where she grew up.