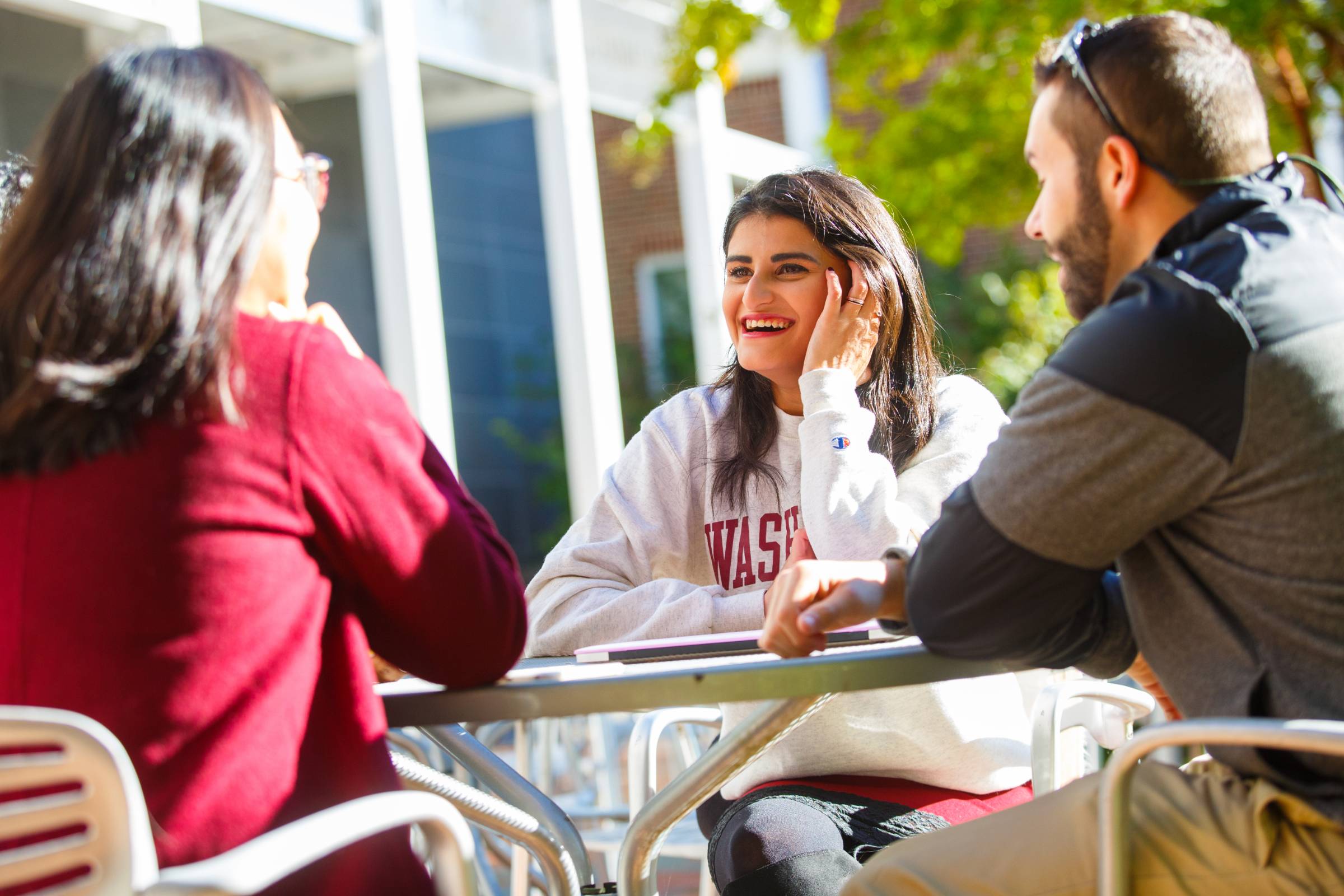 AdmissionsFinancial AidTypes of Aid

Scholarships
Scholarships
Scholarships are awards that you do not have to pay back. Some scholarships are awarded based on merit (the recognition of outstanding academic achievement), and some are awarded based on your financial need. Grant and scholarship assistance from all sources is applied first to full time tuition charges. Grant and scholarship assistance in excess of tuition is then applied to direct charges for fees and on campus room and board.
Merit-Based Tuition Scholarships
Merit-based academic tuition scholarships are awarded at the time a student is admitted to Washington College. These scholarships recognize academic achievement regardless of financial need. More than half of our students qualify for a merit-based tuition scholarship. On average, these tuition scholarships range in amount from $18,000- $30,000 per year.
Merit-based academic tuition scholarships of at least $18,000 are offered to students based on GPA, test scores, class rank or other criteria as determined by the Office of Admissions.
Academic Tuition scholarships of at least $18,000 per year are awarded to active Phi Theta Kappa members who apply as transfer students.
Admitted applicants of exceptionally high academic standing are designated as Hodson Trust Scholars. Renewal criteria for the merit-based academic tuition scholarship awarded to Hodson Trust Scholars includes full-time enrollment and a minimum cumulative grade point average in the range of 2.5. Hodson Trust Scholarships are made possible by grants from the Hodson Trust, whose generosity has supported hundreds of Washington College students over 82 years.
Children of former full-time Beneficial employees, with two or more years of service with Beneficial Corporation and its subsidiaries immediately prior to June 30, 1998 are potential candidates for these full-tuition scholarships. Eligible applicants should request consideration with their application for admission. The scholarships will be renewed annually provided that the recipient maintains continuous full-time enrollment status and a minimum cumulative Washington College grade point average of 2.5.
Donor Scholarships
Named and endowed scholarships are provided through the generosity of donors, alumni, corporate foundations. Eligibility for endowed scholarships are based on fspecific qualifications as established by the scholarship donor(s), such as merit, residency, financial need, major, GPA, involvement in extra-curricular activities, etc.
Students need not apply for named scholarships; they are awarded at the discretion of the Director of Student Financial Aid.
Named scholarship recipients may be asked to write a personal note of thanks to the donor(s) who made your scholarship possible and/or attend a function with the scholarship donor(s).
Private Scholarships
Private scholarship funds from private donors, civic organizations, corporations, foundations or other group are considered outside awards.
These funds are posted upon receipt of the scholarship check. Checks received by our office are divided equally between fall and spring semesters unless otherwise indicated in your scholarship award letter.
A private scholarship may affect your need-based financial aid if the total financial aid, including the outside award, exceeds federally calculated need or if the sum of all scholarships received exceeds the cost of attendance. Whenever possible, the Office of Student Financial Aid will reduce loan and work-study awards first.
Scholarship Renewal Criteria
Students who receive a merit-based academic tuition scholarship are required to maintain a 2.5 Cumulative Grade Point Average (CGPA) and full-time, continuous enrollment at Washington College. International students who receive a merit scholarship are required to maintain a 2.0 CGPA.
Students who receive an endowed scholarship, unless otherwise stated in the Memorandum of Understanding (MOU), are required to maintain a 2.5 CGPA and full-time continuous enrollment at Washington College. Endowed scholarships may or may not be renewable.
Recipients are eligible to renew their merit-based tuition scholarship through the completion of eight semesters. Failure to meet the renewal criteria may result in the reduction or removal of the scholarship.
Scholarship eligibility will be reviewed at the end of every spring term. Students will be notified in June of their merit award status.