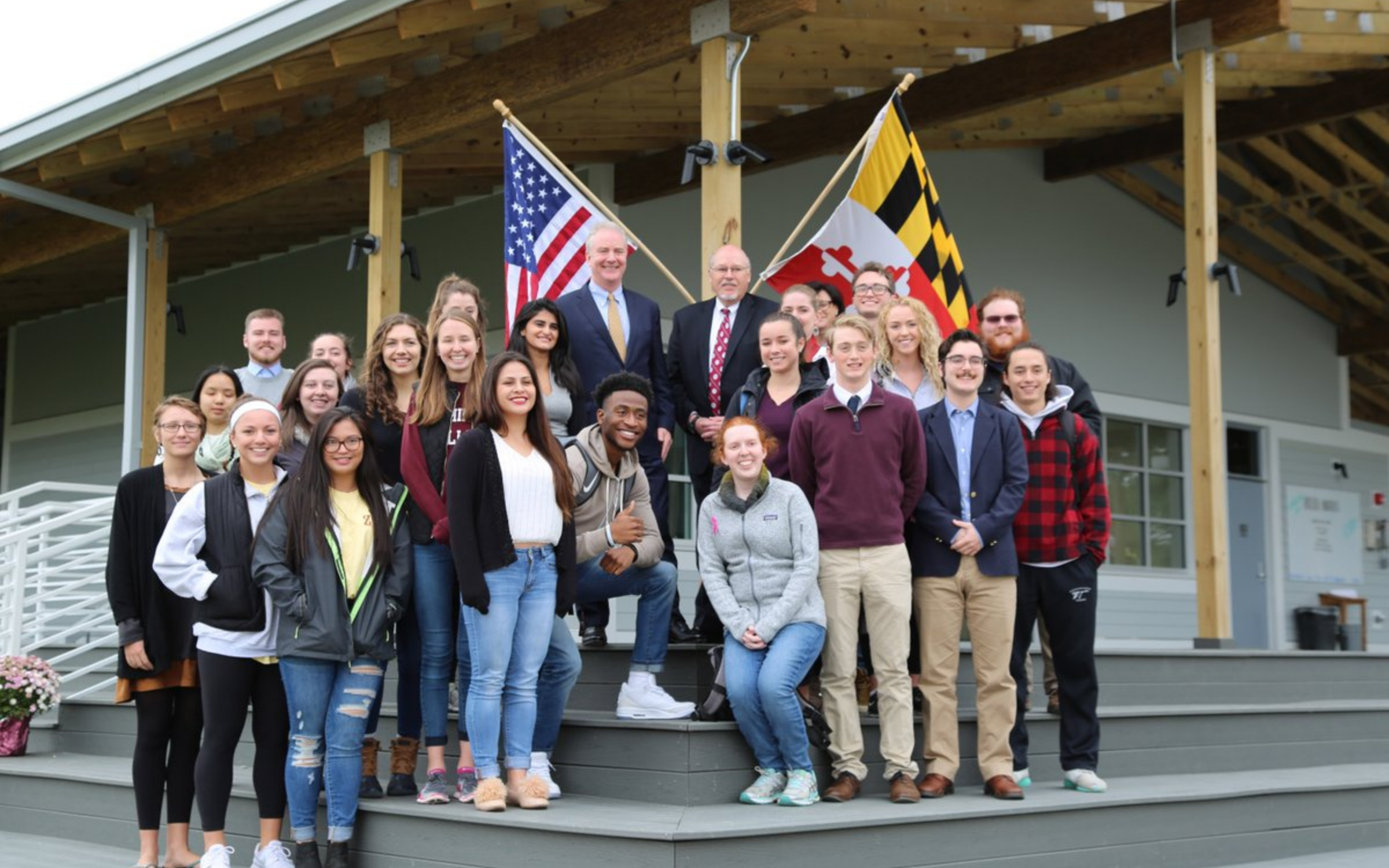 Internship Opportunities
The Department administers a variety of internship programs. It encourages qualified majors to consider an internship experience as a means of clarifying their career goals, applying classroom learning to practical situations, and gaining valuable work experience in preparation for post-graduation employment.
In addition, students may request Departmental assistance in arranging for academic credit. Recent students have interned with the Governor of Maryland's Office, the Maryland General Assembly, the U.S. Congress, the League of Women Voters, the Blue Cross/Blue Shield lobby in Annapolis, C-SPAN, a States Attorney, and political consultants.
The Maryland General Assembly Internship Program, offered as part of the political science curriculum for majors and non-majors, allows students to gain firsthand knowledge of the legislative process and Maryland politics. Students spend two days a week in Annapolis during the spring semester working for a state legislator. Interns also meet on campus for a weekly seminar, which includes reading assignments and written work. Two course credits are given for successful completion of the internship.
The Washington Center Internship program allows students to undertake a full-time, semester-long internship in Washington, DC, with a federal government, political, or non-profit agency. Depending upon their interest and internship placement, students may attend hearings, conduct policy research, draft correspondence, monitor legislation, lobby members of Congress, and write analytical reports. Students will create an in-depth portfolio of their internship experience. They also take one seminar course and participate in a forum consisting of lectures, site visits, small group discussions, briefings, and other required events designed to help them understand the connection between their academic and professional goals and the special educational opportunities available through living and working in Washington, DC. Four course credits are awarded for successful completion of this program.
The Washington Semester and World Capitals Programs, conducted by The American University, are open to juniors and first-semester seniors in good academic standing. The Washington Semester Program is an opportunity to observe government in action and includes study with government officials and exposure to government bureaus, agencies, and departments. A Washington Semester student will be able to earn a full semester of credit by pursuing a course of study in one of the following seven areas: American government and public law, foreign policy, peace and conflict resolution, economic policy, international environment and development, justice, and journalism.
The Department of Political Science and the International Studies Program have a special arrangement with the Hansard Society for Parliamentary Government that enables students to spend a semester in London. Hansard Scholars are assigned to work as assistants to members of the House of Common and the House of Lords, the political parties, and public and social policy and research institutes. All placements involve responsible work and are closely supervised by the Hansard Society. The internship placements are accompanied by three courses at the London School of Economics. Students take Politics and Public Policy, Politics and Parliament, and a supervised research project.
Students enrolled in the Hansard Scholars Programme in London take the following courses:
Hansard Scholars are assigned to work in most cases as research assistants to Members of the House of Commons and the House of Lords, or to the political parties and other politically-related organizations. Students write speeches, research political issues, prepare briefs, and take part in constituency work. Six credits.
This course examines the constitutional and political process in Britain with special reference to the student's internship programs. External lecturers include leading British politicians, political commentators, and lobbyists. Three credits.
This course analyzes current policy issues, seen in their historical context and in a European dimension. Topics include the economy, social policy, education, the role of the media, and ethnic and regional problems. Three credits.
Each student works on an individually designed research project leading to a substantial paper of between 8,000 and 12,000 words. Usually, this is based on research undertaken during the internship. Three credits.