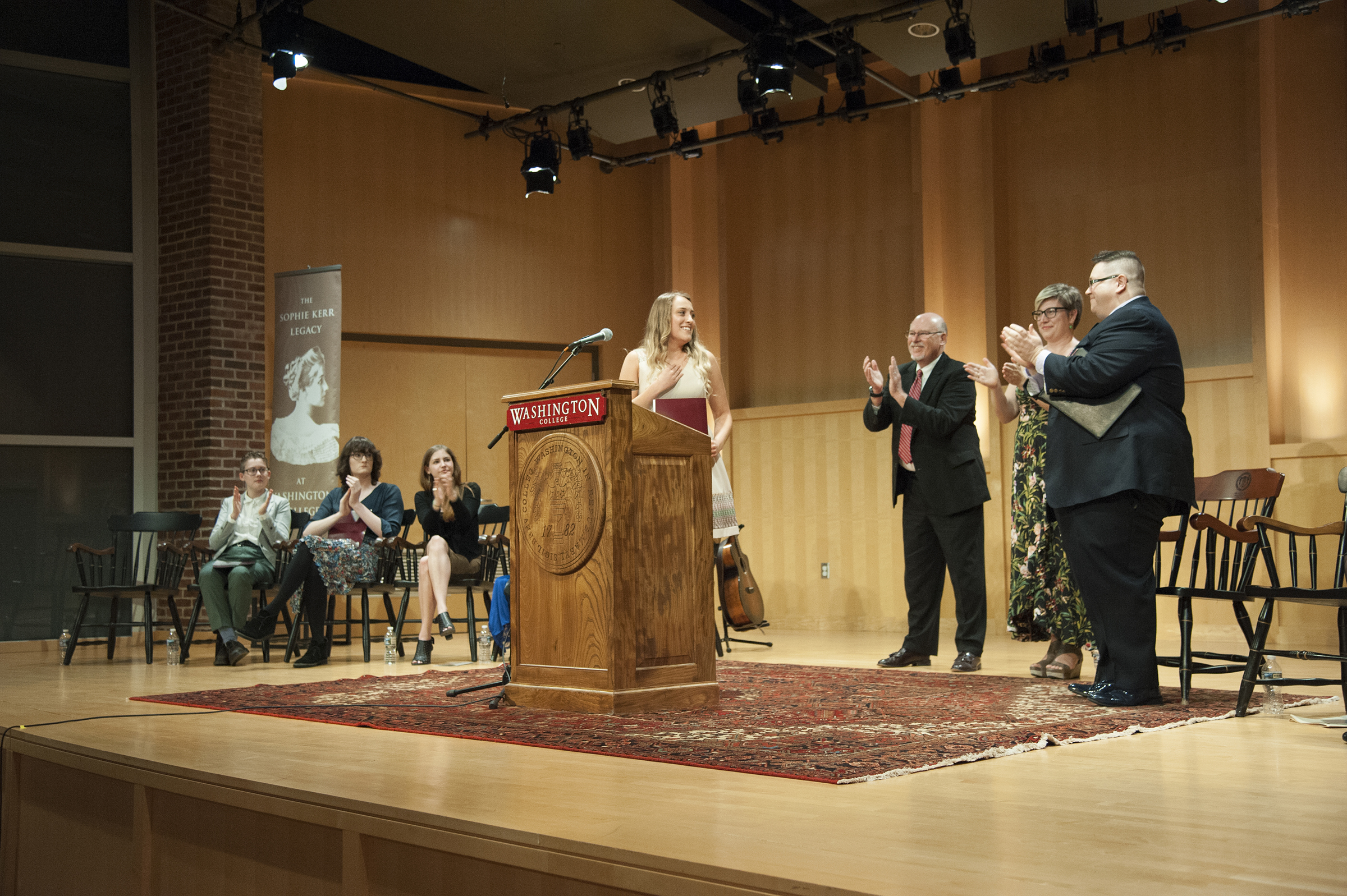 DepartmentsEnglish

Why English?
Why English?
We could list a plethora of reasons you should join us, but we've narrowed it down to a handful.
Why English?
Five Reasons to Consider English
You'll gain exposure to living writers.
Alex Stinton '14 had breakfast at the Rose O'Neill Literary House with visiting fiction writer Tim O'Brien and discussed his writing with other students. "For a fledgling writer such as myself, O'Brien is somewhat of a literary father figure, his books are mentors. I was able to sit down with him for two hours talking about craft, good contemporary novels to read, similarities between Vietnam and Iraq, and—of all things—baseball," Alex said.
You can follow in your favorite poets' footsteps—literally—on the Kiplin Hall trip.
Ariel Jicha '15 traveled to England as part of the 2013 summer program at Kiplin Hall. "Kiplin Hall was a surreal experience. We hiked Greenhead Ghyll and sat in the sheepsfold described in Wordsworth's poem, 'Michael.' We trekked the boggy, windswept moors made famous by Emily Bronte's 'Wuthering Heights.' Seeing the places that inspired some of the most influential writers of the 19th century made their writing accessible in an immediate, visceral way. I loved seeing the wild, scrubby beauty of the Irish countryside in contrast to the sloping hills of England's Lake District. My favorite part of the trip was reading modern poetry from Leanne O'Sullivan, Patrick Kavanagh, and Seamus Heaney outside the pub where we stayed in Glengariff."
You might win a $70,000 literary prize.
In her will, Sophie Kerr, a 20th century writer and native of the Eastern Shore, bequeathed half a million dollars to Washington College. Each spring, the Sophie Kerr Prize—the largest undergraduate literary award in the country—is awarded to the graduating senior who has the best ability and promise for future fulfillment in the field of literary endeavor. The endowment is also used to bring to campus a succession of the nation's top writers, editors and scholars, to buy library books and to fund campus literary activities. "The literary and creative community at Washington College makes for a uniquely amazing education in writing. The countless visiting writers, the mentorship of experienced faculty, or even a simple but engaged classroom discussion allow for a greater understanding of literary endeavors. I left Washington College knowing I wanted to read and write for the rest of my life." said Tim Marcin, the 2013 Sophie Kerr Prize winner.
You'll have a place to call your own at The Rose O'Neill Literary House.
Fondly dubbed "The Lit House," the restored Victorian is a place for students stop by to relax with a good book, work on their poetry and prose, cook a meal with friends, or just escape from everyday life for a few hours. With posters on the walls, shelves full of books, a working printing press, and comfy couches, the Lit House is at the center of our literary culture. "I love to read. I love to write. I love tea. Naturally, I love the Lit House because it's the perfect place for all three," says Aileen Gray '14.
You will study with award-winning teachers and nationally-recognized scholars.