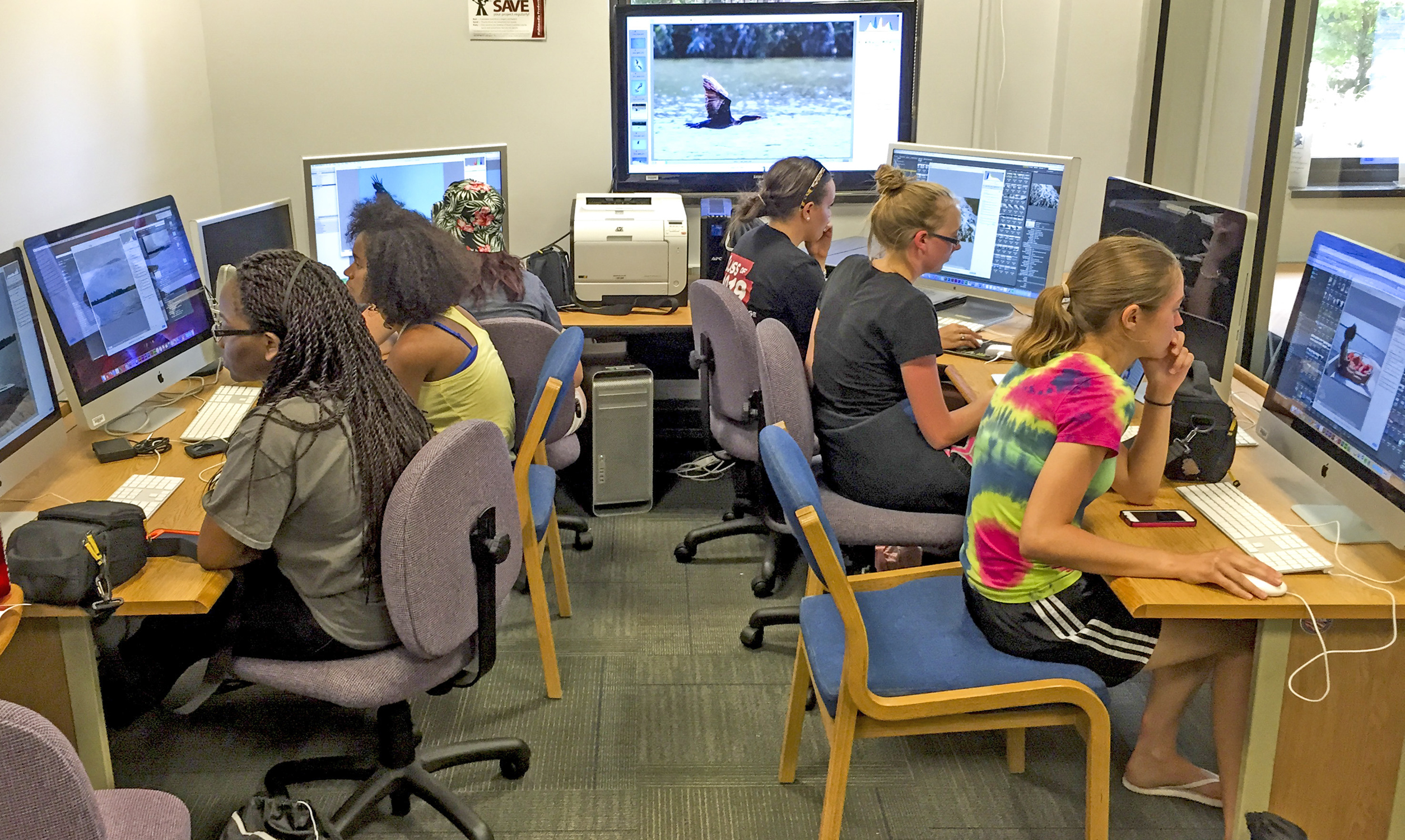 The CMS Minor
CMS provides students the skills that employers value: critical thinking, effective speaking, persuasive writing, successful collaboration. A CMS minor allows students an additional venue for the interdisciplinary investigation, analysis, and understanding of contemporary social and cultural landscapes.
The CMS minor is designed to provide a broad spectrum of classes in the field. The minor allows students to customize their curriculum to best compliment their specific interests and their majors. The elective courses build on the fundamentals established in the two minor core requirements: CMS 101 Introduction of Communication and Media Studies and
CMS 250 Intermediate Communication and Media Theory.
Minor Requirements | Overview
24 credits
12 credits must be taken at Washington College
no more than 8 credits can count toward the minor and also count toward another major or minor
Requirements
Two core courses
Four elective courses
Foundation Courses | Both Required
CMS 101 Introduction to Communication and Media Studies This course introduces core issues in communication and media studies, ranging from theories and models of communication, the relationship between media and society, and history/technology/trends in newspapers, radio, television, film, electronic and digital technologies, & advertising. Key problems and paradigms are explored through materials drawn from academic scholarship, popular press, and multimedia.
CMS 250 Intermediate Communication and Media Theory Theory may seem like a scary word, but theory helps us to make sense of our world. Theories shape how we understand reality, relationships, and the media around us, and helps us to create media of our own. Theory tells us more about how we communicate, aids in holistic comprehension of our media landscape, and prepares us for lives consciously lived. This course exposes students to the major theories of communication and media studies, their application to the academic and professional inquiry in the field, and their importance in everyday life. The course also teaches students to write in and across the field, and prepares them for upper level critical, analytical, and theoretical based communication and media studies thinking and research. Fulfills the W3 writing requirement. Prerequisite: CMS 101 or have permission from the professor.
Elective Courses | Four Required
ANT 215 Sex, Gender, and Culture The study of the biological differences of sex in relationship to the cultural construction of gender. The importance of modes of production and ideology in forming gender concepts for all human societies. Cross-cultural issues of gender identity, roles, relationships, and equality or inequality. Prerequisite: Anthropology 105.
ANT 420 Media and Power By investigating the idea that what we view and express regarding cultural identity and cultural difference is artificial, we can see that popular entertainment, global news broadcasts, monuments and museums, and the internet might be doing more than merely "capturing," "reporting," or "exhibiting." Understanding this, we can uncover something more about how representations are created, how they have been manipulated historically to oppress or devalue certain groups, and how they can be contested. Knowing that images are constructed and not real, we can turn our focus to how people can reclaim their identities and thus their own power through revising or even appropriating the representations that have been made of them. Prerequisite: Anthropology 105
ART 320 Twentieth Century Art This art history course discusses major artistic developments and key figures in twentieth-century art from Matisse and Picasso into the twenty-first century. The emergence of abstraction, the historical position of the avant-garde, and theories of visual modernism are among the themes discussed in the course. Field trips to Philadelphia and Washington museums. Prerequisite: Art 200 or permission of instructor.
BUS 111 Principles of Marketing A critical approach to the study of the marketing concept including policies and principles. Emphasis is placed on the identification of variables involved in marketing decision-making and the process by which marketing decisions are made. Prerequisite: ECN 112
BUS 302 Organizational Behavior A research-based exploration of how organizations function. Topics include the contemporary workplace, career management, culture, bureaucracy, teams, motivation, emotional intelligence, power, communication, gender, diversity, and leadership. Students prepare and make collaborative presentations and conduct workplace and leadership interviews.
CMS 150 Public Speaking Class presentations, job interviews, internships: pubic speaking is part of our everyday life. This course teaches students the main principles of public speaking; practice in composition, delivery, and criticism of informative, persuasive, and entertaining speeches. Particular attention is paid to speaking with media and public speaking in a digital world.
CMS 200 World Cinema I Understanding contemporary moving image culture and media—from YouTube, to Snapchat, to IMAX—requires a working understanding visual analysis. The history of cinema provides the best way to comprehend and contextualize the moving image in popular culture. This course is a history of world cinema to from film dawn to post WWII cinema (roughly 1895-1960) which present the films of this era in a way that understands them as integral works within an historical visual landscape. This course emphasizes understanding filmmaking form (how to watch a movie), aesthetics, and filmmaking techniques, and analyzing content/narrative. Required lab is for film screenings.
CMS 201 Contemporary Popular Film and Television This course teaches students to develop a critical understanding of the role of popular movies and television in their own lives and in U.S. culture. The course looks at issues of the relationship of media to social violence, gender identities, sexual identities, technology, minority cultures, and the role of the U.S. media globally. Required lab is for screenings.
CMS 202 World Cinema II A continuation of World Cinema I, this course looks at film history roughly from 1960-present, presenting various modes of international cinema production and its contemporary evolution as closely interconnected. Covering the US, the UK, Italy, Czech, Senegal, Algeria, Japan, India, and France, we place an emphasis on hybrids of all these 'national' styles, as well as challenging the politically charged notion of national cinema itself. Secondly, we will explore how changes in global contemporary filmmaking evolved the US film industry and helped to challenge Hollywood's global dominance. Thirdly, we will trace how new industrial channels exposed regional and 'minor' film industries to global audiences. Required lab is for film screenings. Prerequisite: World Cinema I or permission of the instructor
CMS 205 Persuasion: The User Experience. This course examines persuasion as a communicative strategy. Attempts at persuasion surround us everywhere: in the advertisements we see, in the messages we receive on social media, in the debates we have over meals, and even in the layout of our grocery stores. Students will consider the history of persuasion in mediated and non-mediated contexts and the ways in which technology keeps users clicking, watching, and participating. In addition to practicing critical analysis of persuasive messages, this class will encourage the production of original persuasive content that is both effective and ethical.
CMS 220 Global Media and Technology. This course will examine the structures and impacts of global communication networks. We will consider the economic, cultural, political, technical, and environmental consequences of increasingly globalized media. We will discuss early work in the field of international communications and continue through to contemporary discussions of global media networks. Throughout the semester, we will examine how different entities wield power and assert influence in this global media landscape and how digital technologies can be used to both challenge and reaffirm those existing hierarchies.
CMS 294 Feminist Media Studies Feminist Media Studies engages with popular culture and identity to understand constructions of race, class, gender, and sexual identity in the media, and how those constructions impact everyday lives. This course provides a broad introduction to feminist media studies, considering feminist media studies' engagement with various theoretical traditions in the study of visual culture texts, their reception, and their production, taking as the object of study film, television, and digital technologies.
CMS 394 Media and Identity This course draws upon diverse literatures to map the terrain of constructed identities through various forms of media. At issue is how distinctive identities) are constructed and represented. To do so the course engages with and expands on questions like: How is identity formed, maintained, and represented? How do individuals use traditional and new media to reflect their identities? How does popular culture inform our personal displays of identity? To do so students will explore various intersection of media and identity, which can include techo-identity, photo-identity and selfie culture, or visual culture (film/TV) identity, among others.
CMS 300 Creative and Information Economies This course is designed to immerse students in the political economy of the media in the United States with a particular focus on creative economies and entertainment industries. Starting with foundational texts and moving through contemporary theoretical positions, students will develop a core understanding of how media systems operate, and with what effects, in a capitalist society. Particular attention will be paid to commercialization, corporate concentration, regulation and policy, globalization, labor, digital worlds and social networking, and the construction of shared culture.
ENG 201 The Art of Rhetoric Students will study and develop the rhetorical knowledge readers and writers use to generate persuasive critical analysis and compelling expository prose in any discipline or field of inquiry. Topics chosen by the instructor (for example: the rhetoric of documentary, the rhetoric of science, the rhetoric of identity) explore the ways writers, artists, and thinkers use rhetoric to communicate in a range of circumstances and texts, both print and multimedia, literary and multidisciplinary. Guided by readings in classical elements of rhetorical study (the 5 canons of rhetoric, rhetorical tropes and figures) students will develop knowledge of writing process and effective style; attention will also be given to the oratorical delivery of composition in the form of speech and/or multimedia presentation. The guiding principle of the course is emulative: while students read and critique various models of rhetorical knowledge evident in the course texts, they will also apply that knowledge to the texts they generate as writers. Fulfils the W2 writing requirement.
ENG 221 Introduction to Nonfiction This course will offer students a selective overview of the "fourth genre" of nonfiction prose. Readings will be drawn from some of the principal subdivisions of this field, which includes autobiography and biography, documentary, the essay, literary journalism, memoir, and writing in new media.
ENG 224 Introduction to Journalism This course will cover the foundations of reporting, writing, fact checking, and editing. Students will write a range of news and feature stories, including an event story, and issue story, and a profile. We will also discuss journalistic ethics and the way the field has been transformed by the Internet. Fulfills the W2 writing requirement.
One film-based class from any department Must have program approval on the course prior to registration. For example, this classes include, but are not limited to, HIS 218 Historical Film Genres or ILC 305 European Film.
*Special Topics Courses: a student may petition the CMS program to count a special topics course as one of their required Field of Focus courses. Approval to count the special topics course must be given prior to the student competing the course.
Interested in the CMS Minor?
Questions? Declarations? Anything related to the minor? Contact Prof. Kozma.